Skibus circulating in the Rousses Resort
Think about the environment and travel by bus through the 4 villages in Les Rousses resort to go skiing!
The Skibuses operate from the Christmas holidays until about mid-March, with two timetables: school holidays and outside French school holidays.
1 € per trip and free with the Carte Rusée or a valid ski pass.
You can also buy a "Rusé" cheque book (10 €), valid from 1st September to 31 August (unlimited journeys).
During certain events taking place in the resort (Oxyrace, Transjeune, Transjurassienne, Traversée du Massacre, etc.), Skibus timetables may change: ask at the Tourist Office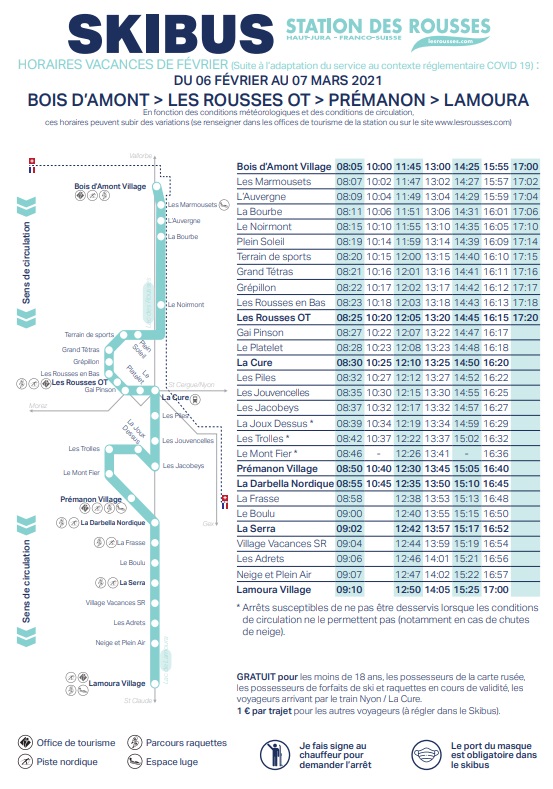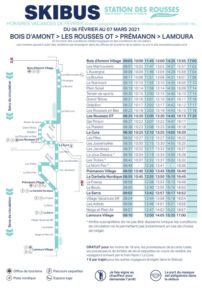 HORAIRES SKIBUS
Hiver 2021 / 2022
Horaires à venir en décembre 2021, avec une fréquence et des dessertes qui seront ajustées aux conditions réelles d'enneigement. (En…
shuttles from train station / towns and cities
In France :
Departures from Dijon and Dole train stations, on Saturdays in winter : "Vroom service", shuttle bus to Les Rousses resort.
Departures from Dijon/Quétigny, Dole, Chalon-sur-Saône, Lons-le-Saunier, Champagnole, Besançon and Salins-les-Bains on Sundays in January and March : Snow Bus (Winter 2021 / 2022).
To find out about the different public transport solutions in the area : viamobigo.fr
In Switzerland :
Departures from Geneva station, 45 km from Les Rousses. Connection possible (15 per day) to La Cure on the Swiss border 3 km from Les Rousses (skibus stop), via Nyon in Switzerland, book on CFF
Departures from Vallorbe train station (TGV Lyria), 40 km from Les Rousses. Connection possible to Le Brassus on the Swiss border 16 km from Les Rousses (more info on www.travys.ch)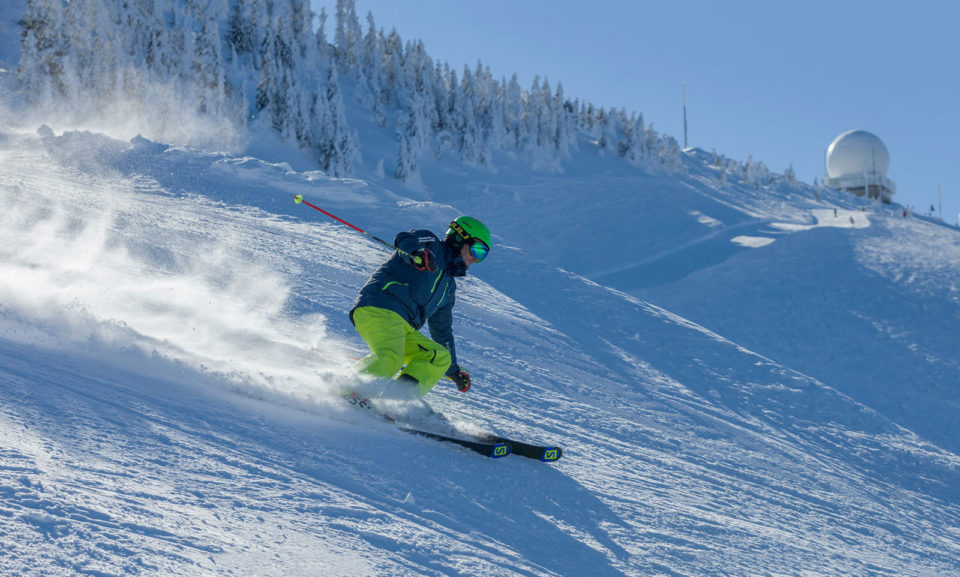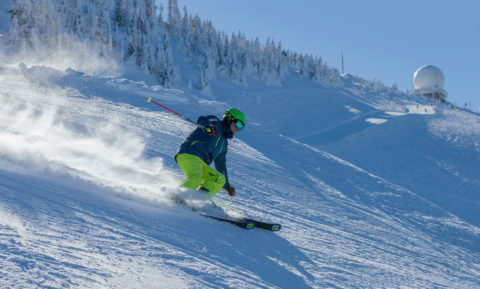 DÔLE RAIL PASS : TRAIN + BUS + SKI
If you live in Switzerland, take advantage of the Dôle Rail Pass : train + bus + ski ticket for CHF 42.70/day per adult departing from Nyon.
Tickets are on sale at the ticket counters at Nyon and St-Cergue train stations, they are also available in the ticket machines along the line as well as in the TPN machines at Nyon station and at La Redoute.