La Serra Mountain (1180m/1452m) in the commune of Lamoura is accessible from the gates/parking areas of La Serra and La Combe du Lac.
This mountain will enchant you with its spruce-bounded slopes accessible to all skill levels and the whole family! 5 ski lifts (whether 1 chair lift and 1 cord lift) serving a total of 12 slopes, include a black slope enjoyed by experienced skiers. On the La Serra blue slope, you can try out a boardercross course accessible to all, with winding paths, raised turns, series of humps, hoops, and other jumps!
The La Serra site is also a starting point for Nordic skiing trails as well as snowshoe courses and footpaths that have been specially built. It also has a secure toboggan run and a heated picnic room.

You can ski La Serra mountain in France, with a Pass' Serra or Pass' All Mountain Ranges.

Many services are available:
– tourist lodging,
– skibus stops,
– restaurant at Combe du Lac and self-service restaurant at Serra,
– ski rental and a ski school,
– an RV area in the La Serra parking lot,
– a heated picnic room,
– washrooms

Take the Skibus shuttles to the slopes from the resort's villages (free with the "Carte Rusée" and/or a valid ski pass)
OPENING PERIODS
11 to 15 December 2021* : partial opening at weekends and on Wednesdays from 9:00 am to 4:45 pm.
From 18 December 2021 to 27 March 2022* : Every day from 9:00 am to 4:45 pm/5:00 pm.
*According to the calendar of the offering and subject to snow conditions.
Plan des pistes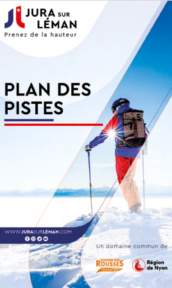 Plan des pistes
Hiver 2023 / 2024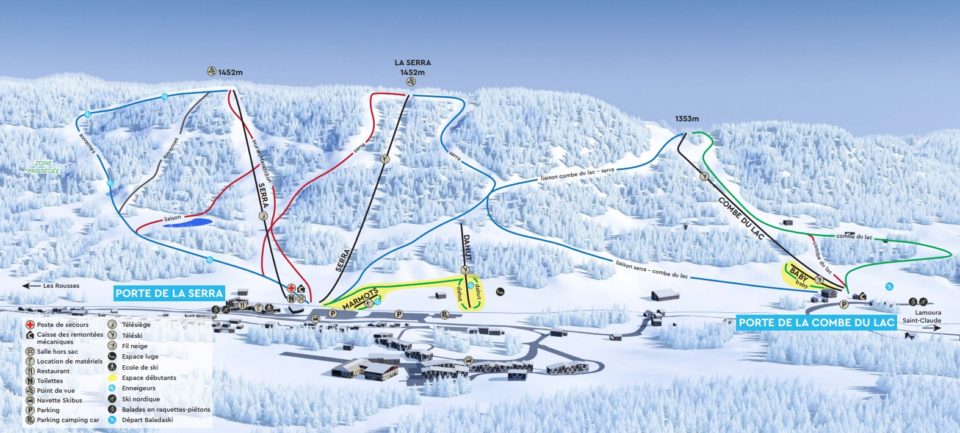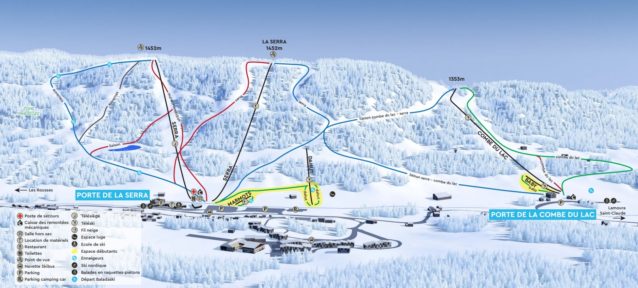 Massif de la Serra
Plan des pistes