Altitudes between 1,090 and 1,678 metres.
Jura sur Léman includes the Dôle, Tuffes, Serra and Noirmont mountain ranges, and will be the biggest cross-border ski area in the Arc Jurassien region.
New
TWO NEW CHAIRLIFTS FOR AN EVEN "MORE COMFORTABLE" SKIING EXPERIENCE !
Two new chairlifts and improvement of the existing Dappes-Dôle chairlift, for a more practical experience and to get between the Tuffes and Dôle mountains more quickly, and now with just one single pass.
The new detachable Jouvenceaux chairlift for easier boarding and exit, ergonomic and very comfortable seats. You can now reach the Tuffes peak in only 5 minutes compared to 12 minutes previously.
It should be noted that this chairlift, used by groups of children learning to ski, has an automatic safety device while moving. It is also equipped to be able to transport handisport tandems, so is accessible to all.
The creation of the Dappes-Tuffes chairlift now provides a quick and efficient link between the bottom of the Dôle mountain and the peak of the Tulles. From there you can then access the Jouvencelles or Balancier entrances gates.
The Dappes-Dôle chairlift benefits from a 30% increase in transport capacity.
A SINGLE SEASON PASS FOR AN EVEN WIDER AREA
You can now access the biggest Franco-Swiss Alpine ski area in the Arc Jurassien region, with one single ski pass! Ski to your heart's content across the Tuffes and Dôle peaks and take advantage of the brand-new facilities, and also explore the Serra and Noirmont mountains.
NEW SERVICES AT THE ENTRANCE GATE TO LES DAPPES
For 2021, you can expect a brand-new multi-functional building that will include a restaurant, a free-to-access indoor picnic area, ski rental, childcare facilities, a shop and sanitary facilities. The car park has already been completely redesigned.
Opening periods
From 4 to 15 December 2021* : Partial opening at weekends and on Wednesdays from 9:00 am to 4:45 pm.
From 18 December 2021 to 27 March 2022* : Every day from 9:00 am to 4:45 pm/5:00 pm.
From 28 March to 3 April 2022* : Every day from 9:00 am to 1:00 pm.

*According to the calendar of the offering and subject to snow conditions.
Plan des pistes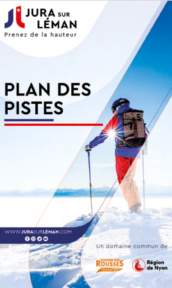 Plan des pistes
Hiver 2023 / 2024
Stations & Mesures sanitaires Covid-19
Hiver 2021 / 2022